Achieve, Inc. - Little Engine Eatery
Since 2017, Achieve, Inc. provides paid work experience and job training for neuro-diverse people.
$2,793
raised by 20 people
$5,000 goal
What Motivates Us
Achieve's founder, Jennifer Davis, was inspired to form the organization as a result of her own experiences as a mother to a young man with a pronounced learning disability. She saw first-hand the problems her son faced because of the lack of programming available in rural Colorado. He did not have the opportunities to participate in activities that build social and executive function skills. He was bullied and excluded from extracurricular activities and social opportunities. Davis formed Achieve as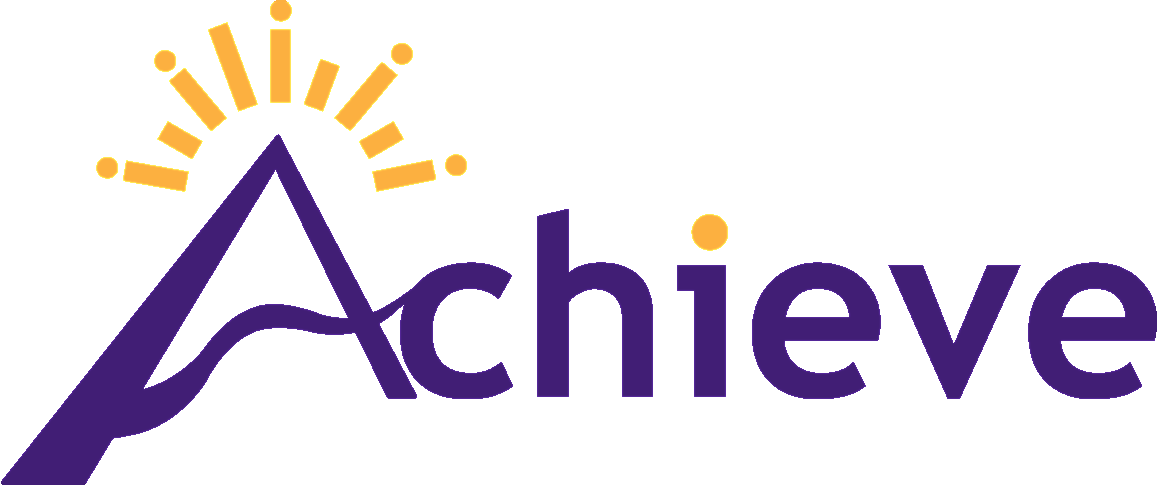 a vehicle to address the void faced by so many young people and families in the rural mountains of south-central Colorado. See the short video above.
Studies show that people with neuro-diversity face significant hurdles in obtaining and maintaining employment. (Neuro-diversity encompasses people with a range of learning disabilities such as autism spectrum and ADD/ADHD.) The vast majority of adults on the autism spectrum are either unemployed or underemployed, with estimates ranging to as high as 90% (Autism Speaks website, 2022). Because of deficits in social skills, neuro-diverse children frequently do not have opportunities to participate in activities that build social and executive function skills. Many are bullied and excluded from team sports, extracurricular activities, and social opportunities. This translates to a lack of confidence that carries on as they age, ultimately affecting their ability to succeed in the job market. The majority of these folks simply join the ranks of the unemployed, often spiraling into depression and a lack of self-worth. Neuro-diverse adults have 46% higher odds of having attempted suicide than their peers without learning problems (Fuller-Thomson, Carroll, Yang, 2018). The need for meaningful programming and opportunities to develop job skills is even more pronounced in Chaffee County, Colorado and the surrounding areas. There is simply no programming in the area, outside of the school system, for this special population.
Current Programming
Achieve's first program has been to operate a small social enterprise – a food trailer (Little Engine Eatery) in Buena Vista, Colorado where people with learning disabilities can feel accepted and learn important skills while earning a paycheck. What started as a small program has

since morphed into a meaningful community operation. During the summer of 2022, the program has approximately 16 program participants and 3 paid mentors. Achieve has been invited to expand its programming into Salida by developing a social enterprise similar to Little Engine Eatery in Jane's Place (a community-supported housing project) that will be a year-round coffee shop.
Your donation will go directly to our current and expanded programming, serving Chaffee County and surrounding communities.
Benefits of Our Programming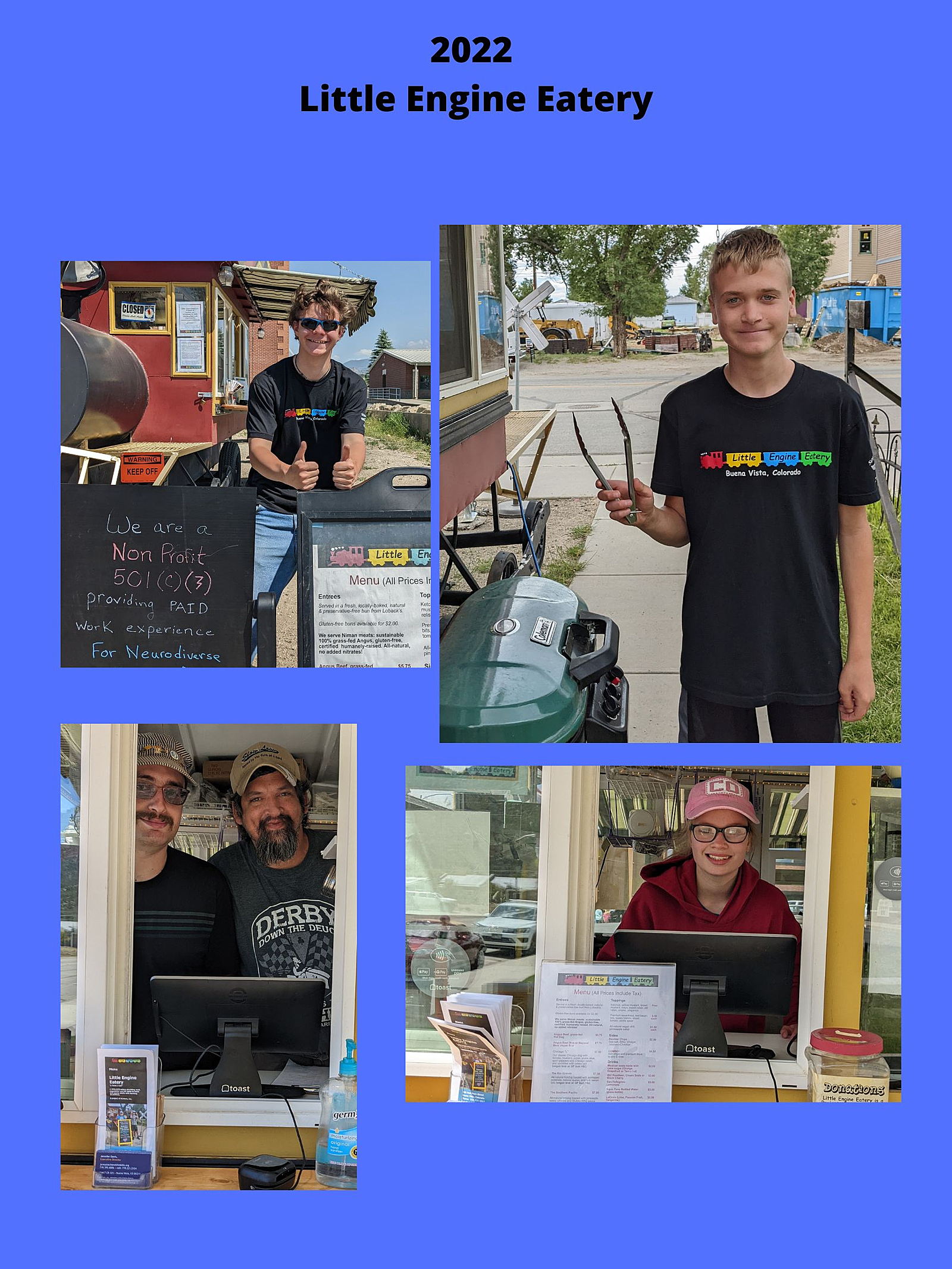 The skills developed by program participants transforms them into a qualified workforce, so badly needed by the community.
Program participants improve their earning potential which enables them to become contributing and independent members of the community and less reliant on government services. Without adequate services for the people served by the program, many families of such individuals end up relocating to areas with more resources in order to obtain services. These tend to be working families with skills that contribute to the overall quality of life and well-being of the community.
Current programming exposes the general public to the abilities of the learning-disabled population, promoting acceptance and tolerance. This exposure will increase with the expansion of programming into Jane's Place.
Feedback from a Parent: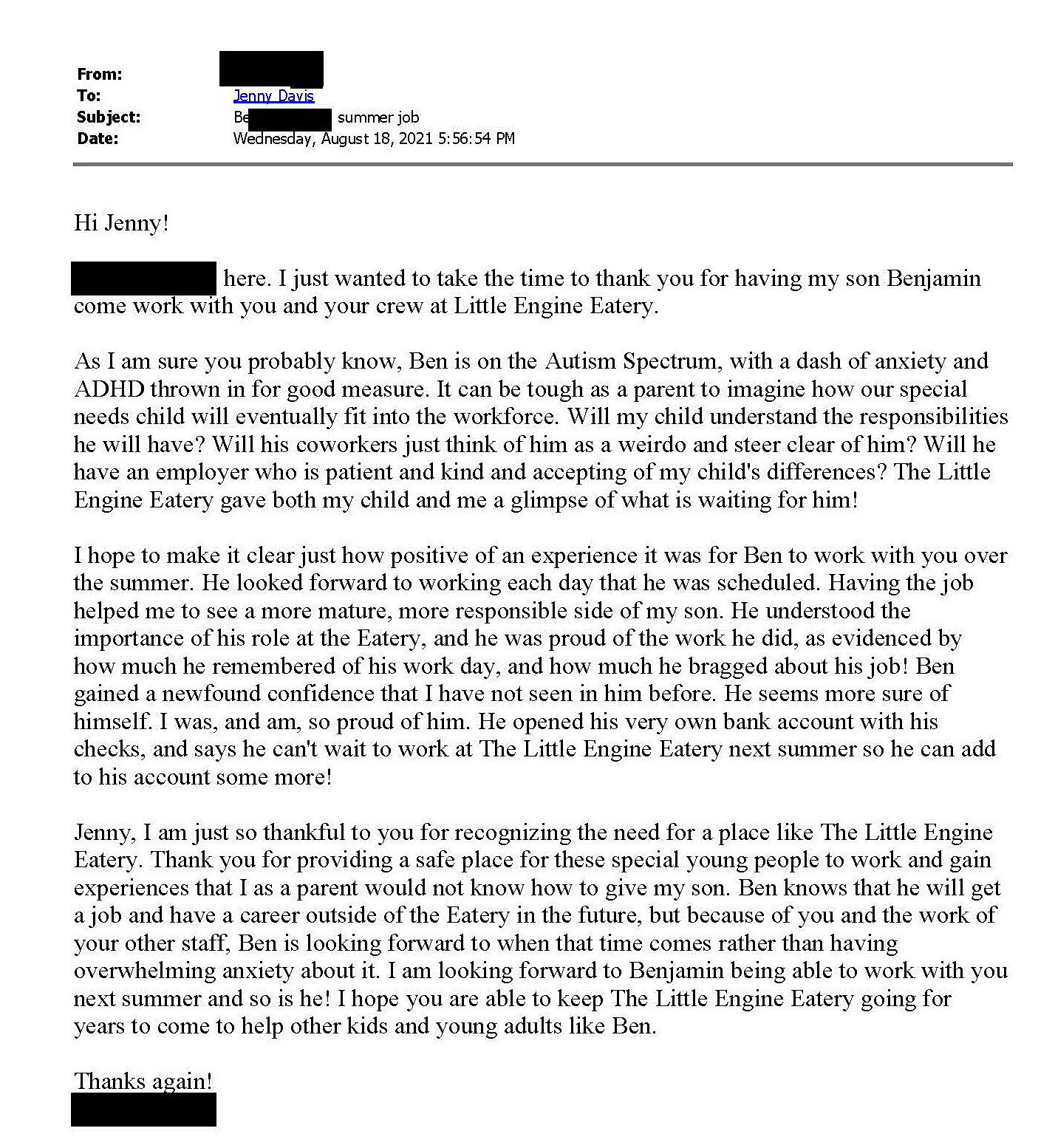 Program Evaluation
Achieve solicits feedback from program participants, their teachers and family members. Pre and post interviews are conducted with program participants to determine areas of need and whether programming met those needs. An evaluation/survey is sent to each program participant's family and/or teacher. Programming is adjusted accordingly.
We evaluate long-term community impact through analysis on the ability of program graduates (now over the age of 18) to obtain long-term, meaningful employment, live independently and report satisfaction with social networks. Of the seven graduates Achieve has been able to track since 2017, 88% have been able to obtain meaningful employment. Significantly, only 58% of young adults (in their early 20s) with autism have ever worked, let alone obtained meaningful employment (Roux et al. National Autism Indicators Report, Drexel University, 2015).
We Need Your Help!
Your donation will enable underserved young people to to obtain and maintain meaningful and long-term employment, improving their earning potential and enabling them to become contributing and independent members of the community while promoting acceptance and tolerance.