War Horses for War Heroes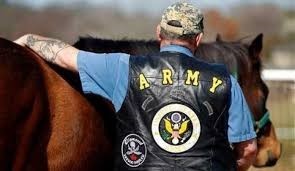 Donating to this project will help us create a world class therapy program for our veterans from Colorado returning home tattered and torn f
$3,299
raised by 18 people
$20,000 goal
Know someone who served in the military? Perhaps you notice that the veteran you know may not smile much less laugh. Maybe you are related to someone who tells you the stories of when they were enlisted. Stories of stern commanders, exotic travel, physical challenges in training, special missions, life on a ship or base, or comradeship. But what they don't or can't share is what wakes them in terror at night or keeps them from finding a purpose in their day anymore. Their pain runs deeper than they can reach. Their pain is in those details. The details that keep them from living their life in real time.
Emotional wounds inflicted by trauma while serving continue to cripple many of our veteran's lives now. The U.S. Department of Veteran Affairs reports that up to 30% of all who have served in the military suffer from Posttraumatic Stress Disorder, or PTSD. Dr. Janet J. Seahorn states emphatically in Tears of a Warrior that "Posttraumatic Stress Disorder is not a condition that heals itself."
Many of those that serve in our military branches find themselves lost once back to civilian territory. They struggle to find a routine. Motivation eludes them. They are strangers to a normal day and even their own families don't understand them. They seek all kinds of means to find a normal life again, yet for those that suffer from PSTD, their body holds the memory of their trauma experienced while they served and drives them into downward spirals, to listlessness or lethargy, deep anger and fear. They exist instead of thrive. They need help.
That's where our rescued horses can come into their picture. Our herd share a common past with our veterans who struggle to overcome emotionally and physically traumatizing experiences. Our horses came to us broken emotionally and physically from neglect or abuse. They found healing. It is their story of restored presence that gives hope to the broken warrior to believe in wholeness again.
Our horses are the vital part of the therapy team for our veterans at Dream Catcher Therapy Center.
From Day 1, a horse will invite the client to just be in the moment with them. They ask them to let go. Horses can hold another's pain in ways no human can. The therapeutic result? Deeply buried feelings can surface so that the stronghold on the mind weakens. Horses naturally seek connection and a bond. They exemplify stillness and confidence and allow the human to share their space. It is in this place healing becomes the much-needed routine for the veteran. A safe, no judgement zone where they can release the past, find comradeship again and begin to trust instead of fear.
Horses invite their touch. They thrive in relationship.
It's this built in desire for connection and harmony that horses innately seek from each other and from us. The horse says, "whatever is in this moment is okay. Just breathe." Deep lasting healing begins here. Our horses with our veterans. Connecting, breathing together and feeling alive again. You can be a part of this help to put an end to the chronic suffering of a real person.
We need funds to be able to expand our mental health program for veterans. With your financial support of this program, you become part of the miracle with us in the lives` of our veterans.