Crisis Center Immediate Client Need Fund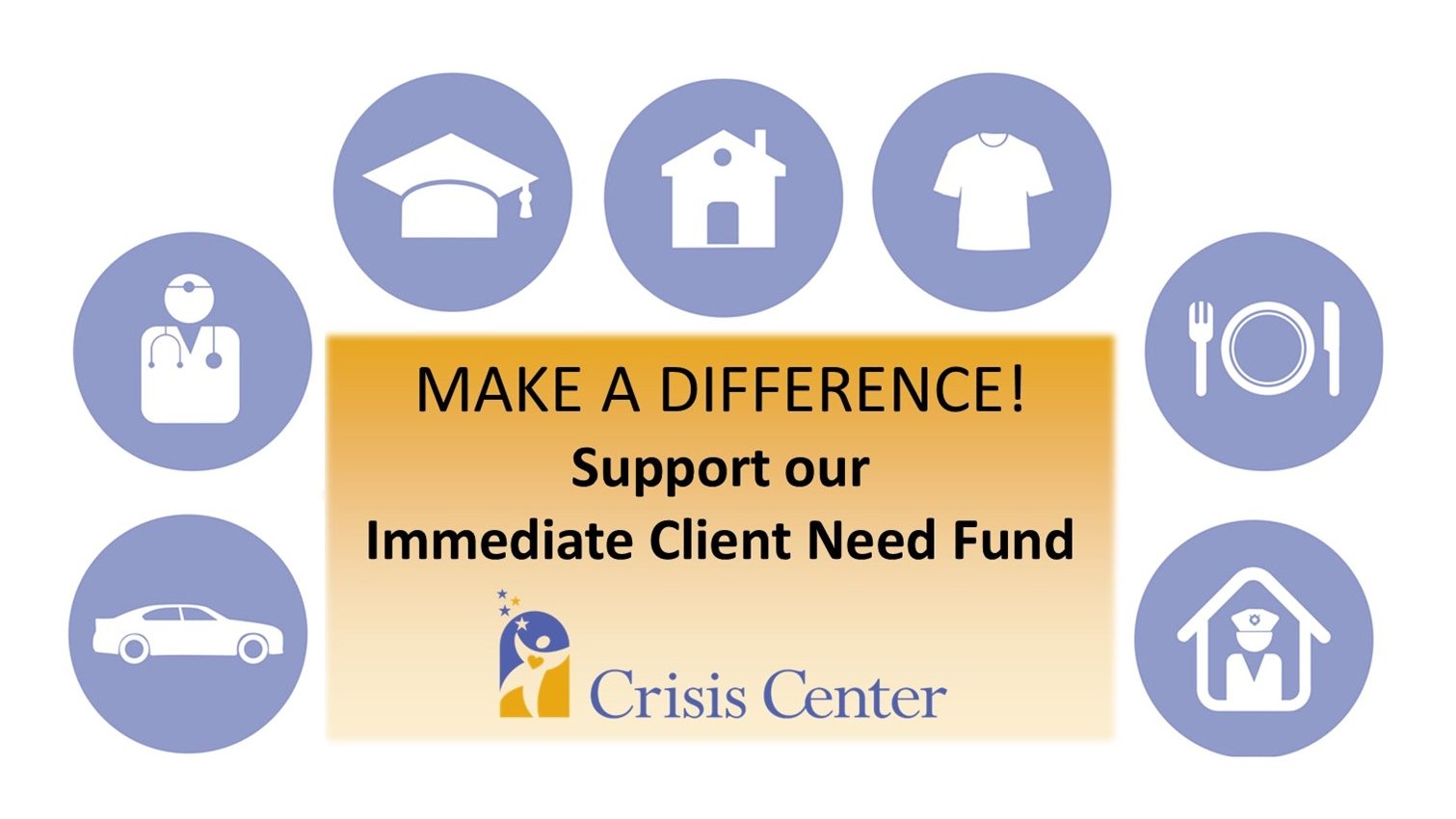 Your support helps make a difference for clients experiencing unexpected, immediate needs.
$26
raised by 2 people
$5,000 goal
For Colorado Gives Day, we invite you to support the Crisis Center's Immediate Client Need Fund. If we reach our goal of raising $5,000 through this campaign, we will be able to support an additional 8 families in need with an average amount of $625 for unexpected, immediate needs. Read below for more information on this critical fund and impact for those we serve:
In the Crisis Center's work with adults and children impacted by domestic violence, we have seen how one setback can derail the progress a client has made on their path to safety, physical and emotional healing and greater well-being. For example, unexpected car repairs lead to not being able to get to work; which leads to a lack of income and inability to pay rent or purchase food; which leads to concerns around maintaining safe and stable housing. Couple that with recent data from Money Magazine (money.com) stating that 40% of Americans find it "somewhat difficult" or "very difficult" to afford typical household expenses, and these setbacks can be detrimental for someone healing from domestic violence.
That is why, in 2019, we established our Immediate Client Need Fund, aimed at providing direct financial assistance to clients experiencing unexpected, emergency needs. Historically, this fund has provided support for things like rental assistance, car repairs, new tires, medication, childcare and court expenses.
The outcomes of providing clients with these funds is to prevent and/or reduce the risk of homelessness as a result of unexpected financial burdens, as well as ensuring clients can ultimately continue working towards safety, greater well-being and improved mental health.
Since the inception of the program in 2019, we have provided over $54,000 in assistance to 88 clients at an average of $719 per family. So far in 2022, we have supported 41 clients with a total of nearly $22,000.
In follow up with clients receiving funds, approximately 90% of clients reported that they have stable housing (subsidized/transitional housing or home ownership/renting private housing) with expenses falling below 35% of their monthly income. These clients also reported that their income is sufficient or stable; and is adequate for paying their monthly bills. Direct feedback from clients include:
"Thanks to the support from the Crisis Center, I was able to get much needed car repair after my ex crashed my car in an attempt to kill me and my son. I'm able to continue to go to work, keep my therapy appointments at the Crisis Center and safely take my son to school. We are so grateful!"
"There are so many obstacles to leaving an abusive relationship, finances often being at the top of the list. Having a fund that can offer financial assistance to address an immediate need has had a huge impact on my life. Assisting with my rental deposit has helped me get a fresh start in a new apartment away from my abuser and make sure my kids could stay at the school they know and love. Your support was literally life-changing."