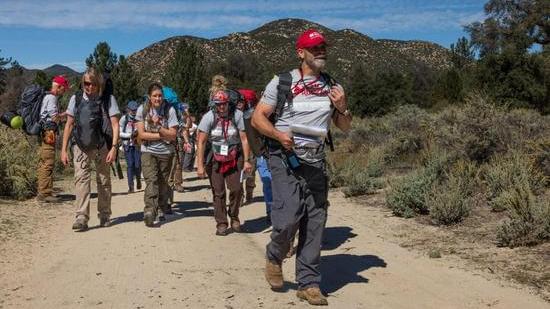 We need funds to provide meals and a night at the Rodeo for Team Rubicon while they're in town!
$11,050
raised by 20 people
$15,000 goal
Team Rubicon is Coming!
Steamboat Springs Fire Rescue (SSFR) has started a 4-year effort to mitigate critical infrastructure and improve the fire break along Blackmer Drive this summer.  With grant funding provided by Colorado State Forest Service, chipping equipment has been secured by SSFR to help with fuels reduction throughout the District.  Now, it's time to get that project moving and Team Rubicon is joining the effort.
After a few discussions between Team Rubicon coordinators, the Routt County Office of Emergency Management (OEM), the Routt County Wildfire Mitigation Council and SSFR, it was decided that support for the Emerald Mountain project would have a lasting impact and would be a great way to kick off the longer term project.  To supplement the effort, Team Rubicon wanted to provide some direct outreach to residents, so planning around the Fairview neighborhood was added to the agenda.  
Team Rubicon is planning to send 40-50 'grey shirts' from all over the county to tackle wildfire mitigation efforts starting Friday 7/28 and working through the weekend.  Team Rubicon is a veteran-led humanitarian organization that serves global communities before, during, and after disasters and crises.  There is no cost associated with their service, as their organization is funded 100% through donations.  
But, they've asked if we can provide shelter and meals... of course we can!
Routt County Wildfire Mitigation Council is providing meals for Team Rubicon and is requesting donations to help offset the cost. The following sponsorship levels are available, but any amount helps!
Mitigation Hero - - - - -                        $2,500
Dinner for the Troops - - - - -              $1,500
Lunch for the Troops - - - - -               $1,000
Breakfast for the Troops - - - - -         $750
Round of Drinks at the Rodeo - - - -   $500
Fuel For Chainsaws & Trucks - - - - -   $250     
All donations are 100% tax deductible and sponsors will be designated and included on a card at the Team Rubicon Appreciation & Clap Out Ceremony on Sunday 7/31 at 4pm.
All donors will be provided with a Team Rubicon T-Shirt signed by the whole crew!