CLLARO: Improving the lives of Latinos since 1964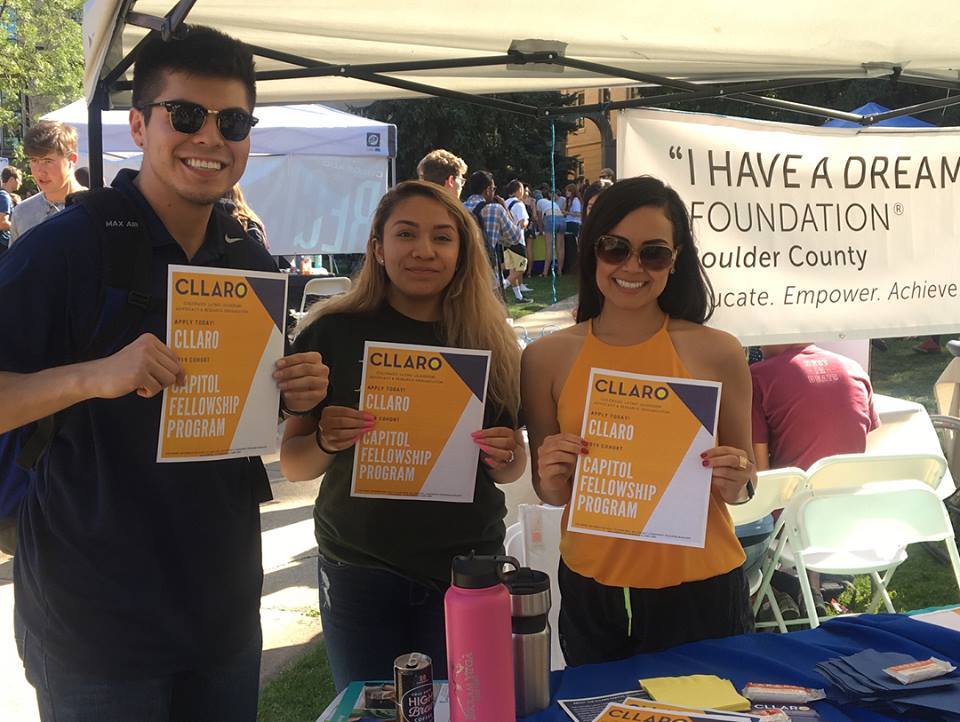 CLLARO: Improving the lives of Latinos since 1964
$36,566
raised by 52 people
CLLARO, formerly known as LARASA, was founded in 1964 to promote equity for Latinos in Colorado. The CLLARO mission is to empower Latinos through leadership development, advocacy, and research to strengthen Colorado. The CLLARO vision is of a Colorado where Latinos are achieving their fullest potential. We do this because we believe that improving the lives of Latinos in Colorado improves the lives of all Coloradans.
We accomplish this mission with your support and through leadership and empowerment programs. Your donation will support the CLLARO Capitol Fellowship Program (CFP). The CFP gives college students (many first generation college students) the opportunity to learn the state legislative process by working with a Colorado State legislator during the entire Colorado Legislative Session. CLLARO provides training seminars on equity, leadership and policy. This competitive program changes the lives of these young people and increases their ability to make a difference for Latinos. Many of the fellows are from low-income families and cannot participate without the paid stipends. We believe our program is the only PAID capitol fellowship in Colorado.
CLLARO empowers community members to increase their leadership and promote education equity in their own neighborhoods through the Parent Advocates in Local Schools (PALS).
In the face of discrimination, economic disparities, and a lack of political representation on local and national levels, Latinos in the 1960s in Colorado were determined to impact their communities for the better. With support from what is now known as Mile High United Way, 27 local community leaders banded together to form the Latin American Research and Service Agency (LARASA) on March 13, 1964 - the first Hispanic/Latino-serving 501(c)(3) nonprofit organization in the United States. Now known as the Colorado Latino Leadership, Advocacy and Research Organization (CLLARO), the organization has been working to serve as an advocate for the rights, concerns and successes of Colorado Latinos for over 56 years.
Since 1964, the concerns of Colorado Latinos have evolved; there are now over 1.1 million Latinos in Colorado, making up 21% of the population, yet: 25% of that population lives below the federal poverty level. 26% of that population lacks equitable access to affordable healthcare options.
CLLARO is a 501(c)(3) non-profit organization located in the Montbello neighborhood of northeast Denver.